MUSES HONEY PRESENTS
THE ROUTE OF HONEY
LET US BEGIN
HONEY COLLECTION & SAMPLING
Honey is collected directly from beekeepers and undergoes vigorous quality inspection and control.
A track record is kept for every delivery, while the strictly monitored supplier network ensures the fixed and unaltered quality of the honey, based on the high standards we have instituted.
SELECTION & CLASSIFICATION PER KIND
Classification of honeys per kind, based on their quality and organoleptic characteristics.
Muses Honey is a multivarietal honey comprising of the best honeys from all over Greece.
PRESERVATION & STORAGE
Honey is stored in conditions preserving all of its essential natural characteristics and its rich biological value intact.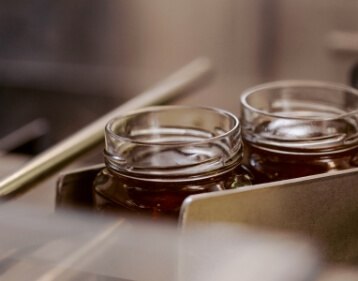 PRODUCTION PROCESS
Filtering, homogenization and moisture control using high-tech specialized equipment.
The standardization process does not take too much time, for it not to "bother" the honey.
FINAL CHECK & STANDARDIZATION
Final quality and organoleptic check before the standardization of honey.
Muses Honey is a product guaranteed to preserve the nutrients and beneficial qualities of Greek honey.